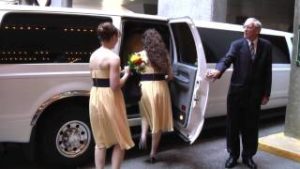 Nothing says "special" better than a luxurious, sleek and sexy limo! Let your fiancé know just how special they are by starting your wedding celebration off right with a beautiful, exciting limo ride.
Whether you are celebrating in Magnolia, Sugar Land, The Woodlands, Rosenberg or anywhere around the Houston area, Expedient Limo is here to serve you with our affordable rental limo service.
Go To Your Wedding In Style
With Expedient Limo, you can travel in style. Relax, sit back, enjoy the ride and travel like a celebrity. Whether you prefer a luxury sedan or a stretch limousine, we have a beautiful rental vehicle that's just right.
The Best Vehicles
We offer a full line of vehicles to meet your needs. Celebrating with your wedding party, or just with your fiancé, we'll help you pick the ride that's just right. And our services are affordable as well so you can relax and concentrate on enjoying yourself and making memories that will last a lifetime.
Luxury and Comfort
Glide through town in one of our luxury limos. With leather seats, surround sound system, fiber optic lighting and fully stocked bar you may never want to leave the limo!
Professional Drivers
Our highly trained, professional chauffeurs are the best in the business. Our drivers are fully trained, licensed and insured by the state of Texas. They are dedicated to making your special day one to remember. Prompt, courteous and discreet, their job is to do all the hard work while you relax and enjoy your wedding festivities.
Safety First
With Expedient Limo, you'll be free to celebrate and enjoy yourself with absolutely no worries. Our vehicles are meticulously maintained, our drivers are absolutely first rate and no designated drivers are required.
Crack open the champagne and enjoy the ride!
Wedding Limos with Expedient Limo
Call Expedient Limo To Book Your Limo Service Today
Affordable Rates – Call Now: (832) 292-7522
Visit Us At: http://www.expedientlimo.com/